Taking on Systems Created by Others
As well as supporting our existing clients' database systems that we have created for them, we help some clients with databases and systems developed by other people. Sometimes it's someone in-house who has moved on to pastures new or simply no longer has time; sometimes it's a system created by an Access developer who has stopped trading or retired. As long as you have the Microsoft Access source files for your database system, we can make changes and additions to, fix and adapt your existing database for you.
(Incidentally, we always ensure that you have the source files for your system from us so that you can develop it further in-house if you want to, or you are free to go to another developer for help. Of course we hope you will want to continue to use our services forever, but you don't have to!)
There aren't many companies that will take over other people's systems, as it does have its challenges - particularly when systems are not documented. And if a system is not fit for the purpose you want going forwards or it isn't economically viable to adapt it, we will tell you. That said, roughly half of the clients we are currently working with, came to us with existing systems that we have added to, adapted and supported.
Here is a list of some existing clients, where we have taken over existing systems:
---
AMF Engineering

This is an engineering company based in Andover, Hampshire, UK, manufacturing metalwork. They came to us after the developer of their system was no longer available and the system had become problematic. Initially we did optimisation work to improve the speed of the system and its data integrity. Now we regularly make additions to this system with new features and updating some of the old original ones to evolve the system to suit the business better. They use the system to work out the cost of a job when quoting parts, labour, purchases to be made. If the job is given the go-ahead the system converts the quote into an order and then allows them to track of the progress of that order.
ATL
Aviation design and certification specialists based in Bournemouth, Dorset, UK. This is a project management system, for quotes, invoicing, and keep track of jobs progress and costs, with a series of weekly reports exported for managing resources and workload. When they came to us they had a series of reports that were manually compiled which have now been automated and run by clicking a button. We have also added new features over the years as their processes have evolved
BCT Aviation Maintenance
This is an aviation maintenance company based at East Midlands airport but with sites at airports all over the world. Their system is used for monitoring storage of parts; issuing and receiving these parts at different locations; tracking serial numbers for traceability; and reporting on inventory, part history, and expiry dates. When we took over the system, there were separate copies at each site, which caused problems when parts transferred between sites. We helped them bring all their bases into one dataset based on their central server and with each base using the system over remote desktop connections (RDPs). We also support them and do minor additions.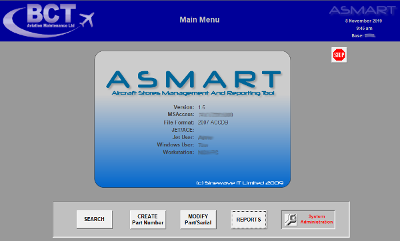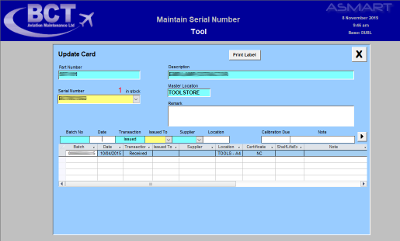 Beezer
Manufacturers and designers of schoolwear and sportswear. We have been improving and adding to a basic system created by someone else for managing purchasing, sales and stock of clothing lines. They are based in Leicester, UK.
BOC
We support 2 systems for the estates department within BOC. One system is for managing the company's large property portfolio in Europe and Africa, with details and reminders for rent reviews, tenancies, etc. The other system is for helping manage the estates aspects of the company's pipelines - so ownership, easements, wayleaves, etc.
Bong

This is a company which provides speciality packaging and envelope products across Europe. We have been helping them streamline their process to extract and analyse data from their corporate Microsoft Dynamics database system for use in their UK sales department, based in Milton Keynes. The databases are all in SQL server, and their querying and reporting is done in an existing Access database.
Britmead House
Possibly the oldest system we support, this records bookings and correspondence for 3 holiday properties, including a Dorset hotel.
Chai Cancer Care
This is a system for a charity based in North London but with centres all around the UK. It consists of patient records, appointment booking, therapist diaries, events and management reporting. Primarily in Access but with links to an SMS text messaging service, Outlook and Excel. We regularly add new features and reports as their needs evolve, as well as supporting them with any problems.
Corbett Keeling

This is a London-based company providing personal corporate finance advice for owners of private companies on raising capital, selling their business and M&A. As a business, their key focus is relationships. Their system is a comprehensive CRM - customer relationship management - database for acquiring, tracking and managing these relationships. It includes clever links to Outlook for email filing.
Edens Landscapes
This is a system for a gardening and landscaping company based near Bournemouth in Dorset, UK. It keeps track of clients, jobs - regular and ad hoc - and allocating work to staff. Also covers invoicing. We have brought the system from Access 2003 to the current version, making minor amendments as needed. We also help them with minor amendments to documents as they want to change them, and with general support issues.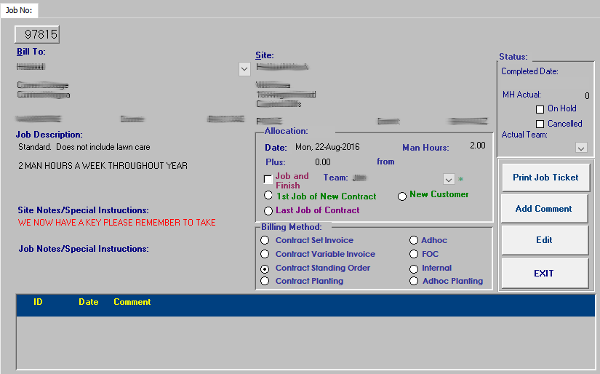 G4S

This is a system for the Estates department of the worldwide security firm. It is a property management system covering rent reviews, agreements, tenants, etc for the company's UK sites.
Hampton's Resourcing
Based in Warwick, UK, this is a company recruiting for the social care sector's managerial requirements - supplying both temporary and permanent staff. This is currently a spreadsheet-based system for calculating wages, staff commissions and invoicing clients. We help them with on-going support issues, and changes when they want to alter the way the system operates.
The Highland Council
This Scottish council is based in Inverness. This department's system is for recording tender responses and contract awards for contracted projects in the Highlands.
International Cards & Gifts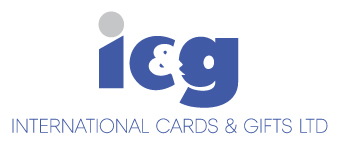 International Cards & Gifts are based in Dorset and manufacture greetings cards sold throughout the UK and Ireland, and internationally. Their comprehensive system manages their stock, their sales - including all documentation, picking, invoicing, agent commissions - their purchasing, their manufacturing, royalties and myriad management reporting. We took over the system in 2014 and have improved, streamlined and added many new features to the system over the years, evolving it as the company has trebled in size.
Kent Domestic Burners
This company is a Kent-based specialist in installation, service and repair of oil and gas boilers and other equipment. Their system manages customers and their boilers repairs and services scheduled or completed. We support them with any issues and have helped improve their system by allowing them to see the full history of a customer, any calls/services/repairs and the charges for those, as well as optimising the layout of their other screens.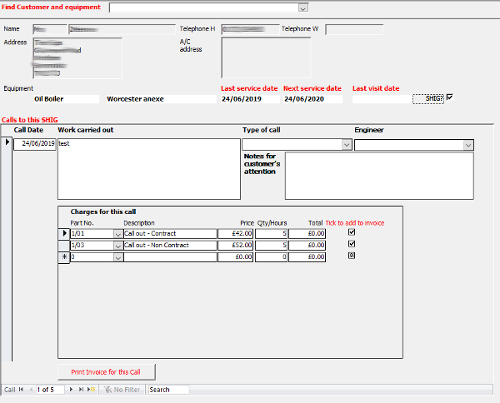 Kilner Planning
This consultancy specialises in strategic property consultancy, space planning and space management, and town planning advice. We have helped them with an Excel-based tool for analysing data from a twice-yearly space utilisation survey for the University of Hertfordshire, designed to help the university optimise use of their facilities. We are also about to embark on a similar project with them for the University of Westminster.
Languages Direct
This is a company that provides language courses, audio books, and educational magazines in 3 languages. We have been helping them move from using separate spreadsheets to collect orders and resubscriptions for each language to an existing unused Access database that will provide a single, central store of customers, orders, and subscriptions to services.
Leonardo

We have taken over a VB6 program used to assign tools to machines for manufacturing jobs and keeping track of their locations and what tools are currently in which machine. This organisation, previously known as Westlands, manufacture helicopters and are based in Yeovil in Somerset, UK.
Les Baddock Bookbinders
This is an Australia-based book-binding company. They had an existing system that had been developed in-house using another piece of software, and it was starting to give them issues. They wanted the functionality of their existing system recreated in Access. The system keep tracks of jobs, customer contact details and logs time entries against jobs.

Maxwell's
This system is for managing the stock of ingredients, which make up menu items at a bar and grill in London. It stores the quantities in stock, deliveries, and prices and allows them to create the full list of ingredients for items on their menu. We provided new search facility to find and add these ingredients to a specific menu item.
MJ Medical
This is a company providing consultancy for healthcare providers in planning facilities. The system allows them to track different projects, departments, rooms, items, as well as reporting on the contents of particular rooms within the healthcare facility being built/created, and the make-up of particular composite items. They can also manage procurement, by storing and evaluating tenders from suppliers. The system uses an Access database user interface with the large datasets stored in SQL-server. As well as supporting them and adding new features we have helped them upgrade the whole system from the now discontinued Access project database (ADP) with SQL-server, to a standard Access database and SQL-server. They are based in Truro in Cornwall, UK.
National Centre for Circus Arts
This is a system for the National Centre for Circus Arts, a leading provider of circus skills education based in London. The system is for managing safety inspections of their circus equipment. We added a user-friendly inspection entry screen, to allow them to carry out the inspections in situ using a barcode scanner with Windows tablets.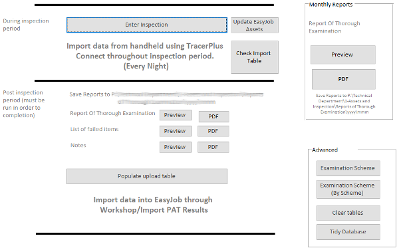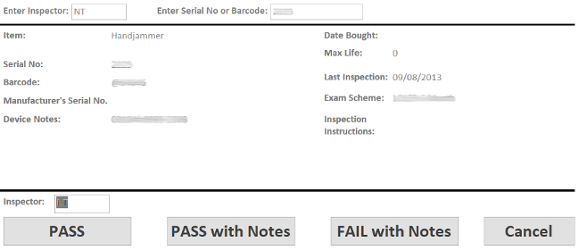 NHS Blood and Transplant

This organisation provides blood and transplantation services to the NHS. This was a project to update a set of Excel files that they use for managing the collection and manufacture of stock and their distribution of blood products for the NHS throughout the UK. The files were originally written for Excel 2003 and needed updating for Excel 2016 and their data-handling process streamlined.
Phoenix Screenprint
This is a Trowbridge-based printing company in Wiltshire, UK, The system is used to track screenprinting orders, hold client details and their past orders. They can copy existing orders to form the basis of a new one. We have extended the functionality of the system to cope with embroidery jobs as well as printing.
SoFFAAM
The Society of Friends of the Fleet Air Arm Museum in Somerset, UK is a membership charity supporting this military museum. Their system records members' details and their subscriptions to facilitate mail-outs and renewals. It also links to a system for calculating and claiming Gift Aid.
UK Labels and Labels Direct
This is a system we took over in 2011. The system links with 2 separate Magento websites, for managing order processing for 2 separate companies and copes with supplying as a 3rd party. They are based in Wolverhampton, UK.
Westminster Wire
This is a company that produces shop display stands in Dorset, UK. The system keeps track of the stock of parts to build stands and call-off stock of completed products. Orders are imported from Sage accounts and then the system keep track of what stage the order is at. It also products export files to various courier company systems for despatches, and a file to be imported back into Sage to update stock information per customer. Over the years we have added in the call-off functionality and improved the robustness of the system.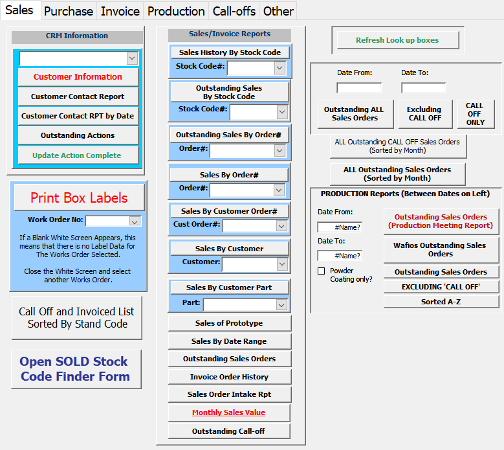 Wychmoor Farm
This is an Excel-based system for a goat milk producer in Herefordshire. The tool is for forecasting production and stock levels of the milk, and calculating daily collections and monthly sales.
Don't just take our word for it...
"I would like to say thanks to yourself and your team for all your hard work.
We are very happy with the quoting system, for the first time ever we are looking at a system that we have confidence in."
Steve Ringsell, CFN Packaging