Our Recent CRM Projects
Here are some examples of the sorts of work we have done with our customers across a variety of CRM related projects. CRM stands for Customer Relationship Management and is essentially a software system for managing a company's interactions with their customers and prospective customers (prospects). This could be meetings, emails, phone calls, social interactions etc.
Contents - Click to jump to an entry
---
NEW: Central filing of Outlook emails and linking to database
Any business has contacts that are important to them, but for some businesses their contacts are everything. Our client acts as a broker in financial deals and so falls into this category. They rely heavily on an existing Microsoft Access CRM (client relationship management) database system to manage their relationships with all of these contacts. They also all use Outlook heavily for most of their contact and communication.
We have helped them implement a sophisticated system of filing emails across their organisation that links with their CRM database and enables them all to see all of the communications taking place with their contact organisations. The project involved plenty of programming in Outlook to achieve their aims with as much automation of the filing as possible.
---
Linking a Database to Incoming Telephone Calls
One of our clients offers a VAT management service to its self-employed clients. We have created a software system for them to handle both their sales process - converting their many leads into as many customers as possible - and the high volume financial transaction aspects of the service they offer.
As part of their sales process, we have incorporated an off-the-shelf call-handling system called Tapirex. When they receive an incoming call, this software detects the telephone number of the caller and flags an alert at the bottom corner of their screens displaying the number calling and the name of the caller. (It looks up the name of the caller - if known - by reading the database of prospects and clients that forms the basis of our system.) The users can then click on the alert to go straight into our system with the full record card relating to that person - including all previous contact made with them - in front of them when they answer the call. Neat!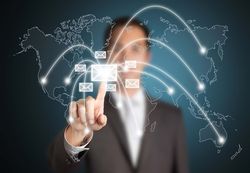 Features:
Full integration between the call-handling software and the
operations system
On-screen flag to say who is calling
Direct link straight to the main database screen for that person
Benefits:
Ability to see who is calling before picking up - so the appropriate staff member can take the call if available. (Anyone can answer the call otherwise.)
All the necessary information relating to that prospect or client immediately at your fingertips to answer questions, or to edit the information - and to add to the contact history at the end of the call
Slick CRM (customer relationship management)
---
Sending Emails and SMS Texts from a Financial Management System
One of our clients is an accountancy firm that provides VAT-related services. They have a large system that we created for them in Microsoft Access for managing the high volume of transactions and complex calculations involved. This includes VAT calculations for the flat-rate scheme, raising invoices, automatically submitting VAT returns, submitting BACS payments, reconciling bank statements, and much more besides.
It also manages their sales process - the process they follow to convert leads into customers - or, in more general terms, their CRM (customer relationship management).
One aspect of the CRM part of the Access database system enables them to send out automated, but personalised, emails and SMS text messages at pre-defined time points or when certain criteria are met. For example, if a prospect has indicated a preference for communication by SMS, and their HMRC registration has just completed successfully, they might receive a text letting them know the amount of VAT rebate they can expect to receive. The system sends out a batch of these text messages to the various prospects due them, at the click of a button.
You could use a similar idea for marketing and contact management generally. If you want to follow a prescribed process for any contact management, this sort of system can be very useful. We personally use some similar ideas for credit control, for example, but you could consider applying these ideas to your own marketing database.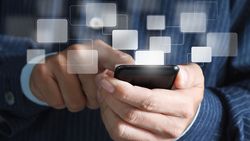 CRM Database Features:
Personalised communications at the right times
Uses Microsoft Access combined with Microsoft Outlook to send automated emails and SMS
User-definable criteria for sending out messages
Controllable but automated system
CRM Benefits:
Ability to handle high volumes of business with few staff
Hugely increased profitability
Efficient and error-free communication
Easy to maintain and easy to evolve as needs change