New in Microsoft Excel 2013

Excel 2013 is fundamentally about making the use of a spreadsheet faster and more automated. The first thing you'll notice is a minimalized look similar to the style of Windows 8, using clear labels and large, flat buttons. This new, cleaner format allows for somewhat easier use of Excel 2013 from a non-desktop computer such as Microsoft Surface. However desktops are still the easiest platform on which to use Excel.
Analysis tools like charts or totals formulae can be generated automatically based on your data with just one or two clicks, and just like in 2010 the charts have a range of different styles and templates from which to pick, although there are now fewer types of chart available.
The interface for editing charts has been simplified and generally relies less on right-clicking the correct part of the chart to find the options you need. The charts also now support animations for adding interest and emphasis, as well as new types of data labels that allow you to freely edit their content and format.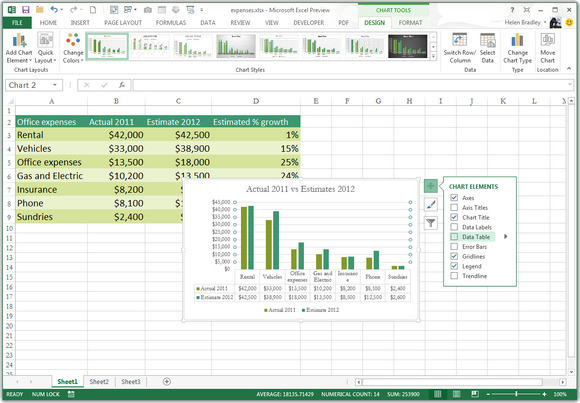 PivotTables have received similar attention, gaining new auto-generation features plus many advanced features previously only available for add-ons such as PowerPivot. Among these an important one is the ability to make a PivotTable that mixes data from multiple regular tables and can even make use of defined relationships between different parts of different tables in the same way that a relational database can.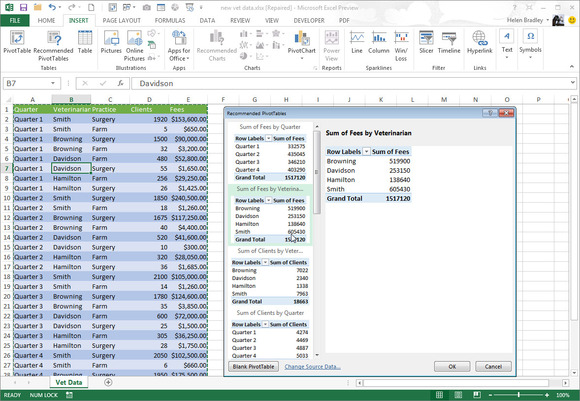 Other new Pivot Table features include: a timeline layout to allow you to switch the Pivot Table to look at different dates in sequence using pre-built filters similar to a Slicer; a new system for 'drilling' that allows you to see all of the details behind a piece of summary data like a total (and the reverse of this); upgraded PivotCharts and the ability to create them from regular data, not just PivotTables.
There is also a new feature called Flash Fill that will fill columns with formulae when it detects a pattern to how you have manually added formulae to the column so far. Of course you can choose to reject what it tries to do if it gets it wrong!

Software-Matters have been experts in bespoke Excel systems since 1995.
Find out more about how we can help you with your project by emailing us via our Contact page or giving us a call on 01747 822616. We give free advice!
If you would like to read more about the different Excel versions follow the links below.
If you enjoyed this article or found it useful, why not tell others about it?